Overview of Wifi Kill Pro APK
One of the programs that can help you make your wifi connection fast and dependable even on public networks is Wifi Kill Pro APK. WiFiKill Pro can help your Wi-Fi connection go faster. Other smart devices will believe that your smartphone is a Wi-Fi router if you have the app open and are using public Wi-Fi. Wifi Kill Pro APK no root will break their connection as soon as they attempt to connect to your phone.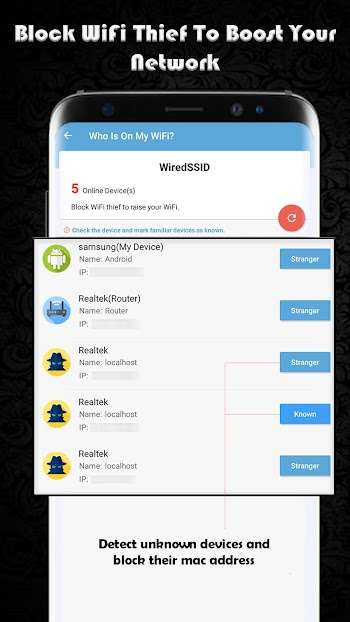 Now, a speedy and secure internet connection is required for work to perform properly. Additionally, keep in mind that wifi has developed into a basic requirement for everyone in the present day. From communicating with friends to acquiring fresh information each day to checking our emails, we are all surrounded by it.
Today, it seems like everyone is pressed for time when utilizing free wifi during their daily commute, at a coffee shop, or even at work. Several users are concurrently logged into the same network. They make our lives unpleasant by squandering valuable bandwidth on buffering pointless or unnecessary content.
These are the motivations behind the creation of the Wifi Kill Pro APK download. Imagine for a moment that you could detach from everyone else in a coffee shop so that you could use the wifi by yourself. This is the purpose of this application, and you are aware that you must one in order to survive in the technological age.
Although it is pretty alluring to be able to exclude everyone from a certain network and control the bandwidth while utilizing a public system, this is not the only advantage you receive from using this tool.
Features - ​​Wifi Kill Pro APK 2022
Intuitive user interface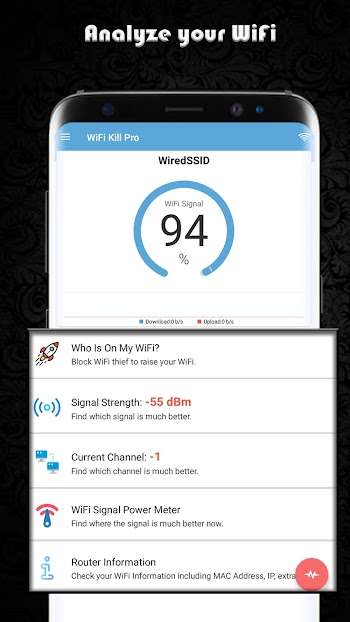 Wifi Kill Pro APK latest version has a simple but user-friendly user interface. It makes it possible for all users to connect to the internet at a good speed across all public networks with little to no effort.
Enable you to monitor WiFi traffic
Customers may now rate their data transmission as well as see what page they are on. Just avoid them and do not spend your valuable time if you observe them checking or looking for some dumb things. I mean, this feature is such a blessing.
Now, if you're in a restaurant or coffee shop and want to know who the cute girl or boy is, this Wifi Kill Pro APK for android can also help. It can display the names of each connected device to the same network. The likelihood of the names matching is there.
Prevent access to WiFi
The freedom to select which people you wish to join the network is the nicest aspect. You are able to keep your buddies online while doing your web browsing in the coffee shop.
Block connections from other users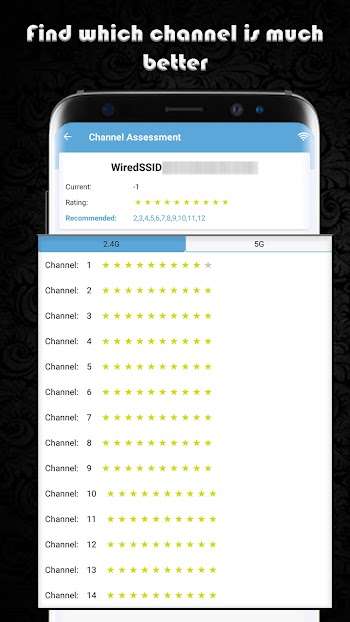 If you're a kind person, you might be able to easily banish someone from the network, disable them in the future, and destroy their priceless gray matter. For this, uninterrupted high-speed internet is not necessary.
Versions: Pro or free? Which one should I pick?
Take something you can use for free if it is offered. The problem is that the free version disconnects after 5 minutes and displays advertisements on the interface, thus it could be preferable to buy the full version on the developer's website using PayPal if we want to use it continually.
The point that it won't function on unrooted devices is another disadvantage. Therefore, in order to obtain superuser capabilities, you will need to learn how to root your device.
The greatest WiFi network control app available is Wifi Kill Pro APK Mod. It has the ability to shut down (deactivate) the connection to the internet of other Wi-Fi-connected devices. It is a very helpful tool for WiFi web users since it allows you to remove (turn off) other users from a shared WiFi network and reserve the entire amount of bandwidth for yourself. The program requires root access and is only available for Android.
Conclusion
Wifi Kill Pro APK makes it easier to remove unauthorized devices from your home network. The program acts as a shield, blocking these erroneous connections and enhancing and speeding up your internet.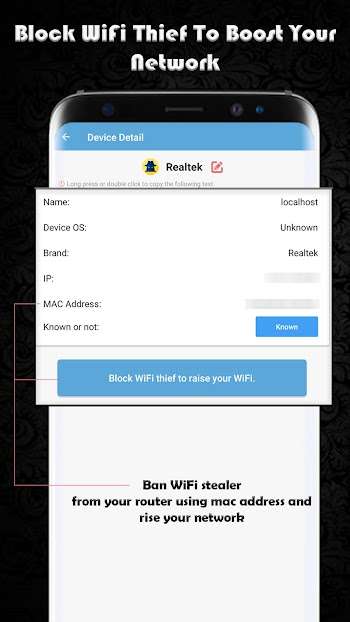 Wifi Kill Pro APK free download enables you to find out directly from your smartphone or tablet which devices are linked to your WiFi network and what they are downloading. It also provides you with all of this information in an interface that is very user-friendly.