Unlock the Thrills of FIFA 24 with the Companion EA FC 24 APK
Hello FIFA 24 fans! If you're excited about playing Ultimate Team in the upcoming season, you're in for something great. Today, we'll talk about the Companion EA FC 24 APK software, which can significantly improve your FIFA 24 play experience. We'll tell you all about this handy mobile app and why every FIFA fan should have it.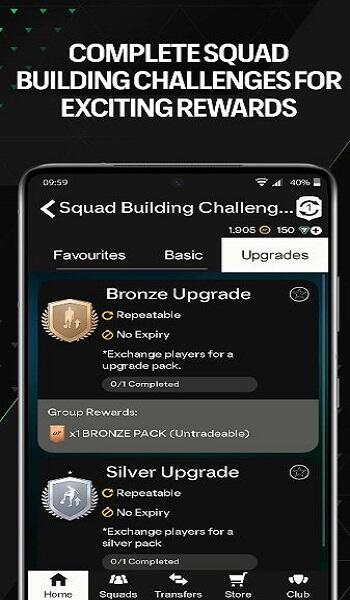 Understanding EA FC 24 Companion App
You may have heard of the EA FC 24 Web App, but here's the key difference: while both serve similar functions, the app is tailor-made for your mobile devices, allowing you to dive into the world of FIFA 24 Ultimate Team wherever you are. On the other hand, the Web App is for those who prefer to manage their teams through a web browser on their computers.
The app, along with the Web App EA FC 24, grants you early access to EA Sports FC 24, and it's absolutely free. While there are various ways to get an early sneak peek into the game, these two apps are the ones that won't cost you a dime.
Key Features of the EA FC 24 Companion App
FUT Stadium Customization
Imagine having the power to tweak every aspect of your FUT Stadium, from the electrifying walkout music that gets your adrenaline pumping to the dazzling goal celebrations that showcase your style. With the app, this level of customization is right at your fingertips, even when you're on the move. With a few taps on your mobile device, you can set the tone, change walkout music to match your mood, choreograph goal celebrations, and unfurl impressive Tifos that celebrate your achievements.
Participation in FUT Events
FIFA 24 is not just about individual glory; it's about being part of a dynamic community. EA Sports FC 24 APK allows you to dive into FUT Events, where you can earn rewards for your club and contribute to the larger FUT community.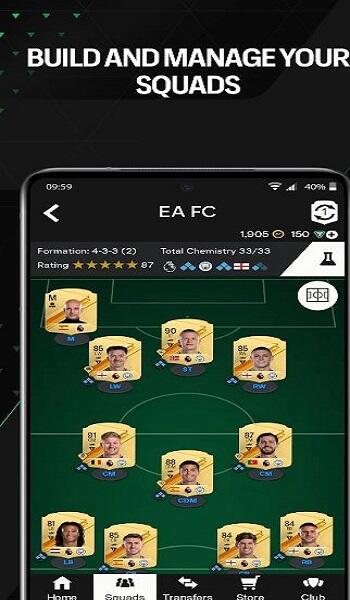 Whether you're feeling competitive or in the mood for some teamwork, there's an event for you. In Team Events, you can choose a side and face off against the FUT community in exciting challenges. With the app, you can track your community's XP progress right on your mobile screen.
Reward Tracking
Nobody wants to miss out on hard-earned rewards with the app. Gone are the days of logging into your computer to claim your Champions, Division Rivals, or Squad Battles rewards. Instead, conveniently keep tabs on your progress right from your mobile device and claim your well-deserved rewards with a few taps. Imagine finishing a thrilling match on your console, and before the jubilation fades, you've already collected your rewards on your mobile.
Transfer Market
Now, let's talk business – the Transfer Market business. In the world of FIFA 24, buying and selling players can make or break your team's fortunes. EA Sports FC 24 Companion brings this bustling virtual marketplace to your fingertips, connecting you with players from the vast FUT community around the world.
Whether you're scouting for a rising star or offloading surplus talent, the Transfer Market's accessibility through the app ensures you're always in the game. Looking to improve your team with a top-notch goal scorer? Or perhaps it's time to cash in on a surplus player for a hefty sum? The Transfer Market is where these deals go down, and you're now the master of this market.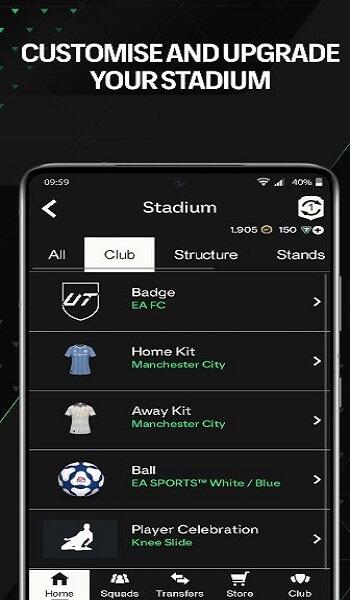 Squad Building Challenges (SBCs)
In the world of FUT, creativity is key, and that's where Squad Building Challenges (SBCs) come into play. SBCs allow you to trade your extra players in exchange for new players, packs, or valuable club items.
Perhaps you have players who no longer fit your formation. Instead of leaving your players unused in your club, Squad Building Challenges (SBCs) help you turn them into valuable assets that make your team stronger.
Availability and Accessibility
If you're on the move and want to stay connected to your Ultimate Team journey, this app supports you. On the flip side, the Web App is for those who prefer a more comprehensive experience on their computer. You get to choose your battlefield - mobile or desktop. Both are equipped to provide early access to EA Sports FC 24 and what's even more remarkable is that this privilege won't cost you a cent.
Companion on the Go
The mobile-friendly interface of the app ensures that you're never too far from your FIFA 24 team. Whether you're stuck in traffic, at the dentist's office, or just lounging on your couch, your FUT squad is at your command.
The Web App for Web Warriors
On the other hand, if you prefer the big screen experience, the Web App is your go-to. Accessible through your computer's web browser, it offers a comprehensive view of your Ultimate Team world. Manage your squad, explore the Transfer Market, and dive into FUT Events with ease.
How to Download FC 24 Companion App APK
Step 1: Visit a reputable website
To keep you and your device safe from potential risks, you should download this application from a reputable website like TechZapk.net.
Step 3: Search for the app
In the app website's search bar, type in EA Sports FC 24 Download APK. Hit the search icon.
Step 5: Download and Install
Tap the "Download" button and let your device do the rest. Once the app is downloaded, tap "Install."
Step 6: Open the App
Once installed, tap "Open" to launch the Companion App.
Step 7: Get Your Game On
Log in with your EA Sports account credentials, and you're ready to take your FIFA 24 journey to the next level.
Benefits of Using the EA FC Companion App
Convenience Is King
The app makes playing FIFA 24 super easy and convenient. No need to rush home to make crucial squad changes or check your rewards. It's all there on your mobile device, wherever you are.
Community Engagement
With the EA FC 24 APK, you can interact with players from around the world in the Transfer Market and participate in thrilling FUT Events that test your skills and teamwork.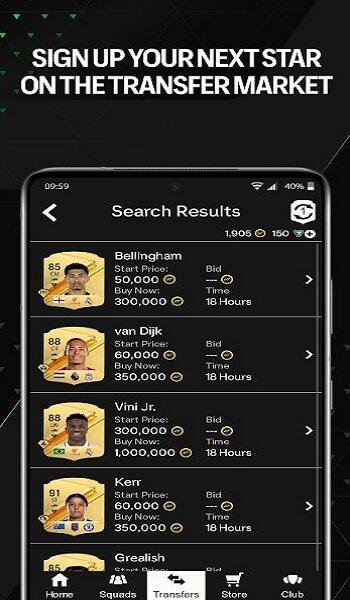 Personalization Made Easy
Customize your FUT Stadium, make it a reflection of your style, and revel in your achievements. With the app, you can tweak and tune your stadium even when you're not at home.
Conclusion
Companion EA FC 24 APK is a game-changing tool for FIFA 24 enthusiasts. From FUT Stadium customization to participating in engaging FUT Events, tracking your rewards, mastering the Transfer Market, and taking on Squad Building Challenges, this app offers it all. It is designed for those who crave flexibility and want to experience FIFA 24 on the go. If you prefer a more comprehensive view, the Web App has your back. Getting started is a breeze – just follow our step-by-step guide to download the Companion App on your mobile device and unlock a world of football excitement. Enhance your FIFA 24 journey, engage with the global FUT community, and make your Ultimate Team dreams a reality. It's time to kick off the season in style and rise to the top of the FIFA 24 world. Download the Companion App today and join the football frenzy!